---
---
The perfect balance of comfort, style, and safety
The indestructible shoe is designed with unparalleled durability that is specially engineered to provide long-lasting protection without all of the extra weight that typical safety boots and shoes harness. Each shoe weighing less than a pound features a light breathable mesh material to minimize the shoe's weight and maximize drying time. The heavy-duty steel toe is implemented to ensure your safety from falling, crushing objects. These shoes are also equipped with Military-grade Kevlar material for maximum sole protection. 
These Indestructible Shoes are also completely self-lacing adjustable to enhance comfortability and custom fitting. These all-season sneakers are the perfect choice for any occasion!  
These durable sneakers are also equipped with Military-grade Kevlar material to keep the soles of your feet protected from sharp, jagged objects in the workplace, as well as hazardous environmental conditions.
The Indestructible Shoes come in 10 unique styles and are equipped with extremely breathable mesh material that is guaranteed to keep your feet cool on hot, humid days. Plus they take almost no time at all to dry. The work shoes are made of premium materials, finished with steel toe cap and steel mid-sole, breathable and lightweight vamp fabric to ensure less weight and ultra ventilation. Moisture-wicking mesh lining for maximum airflow and breath-ability to prevent smelly and sweaty feet. Upgraded design for supreme comfort for all foot sizes no matter what movement your job demands.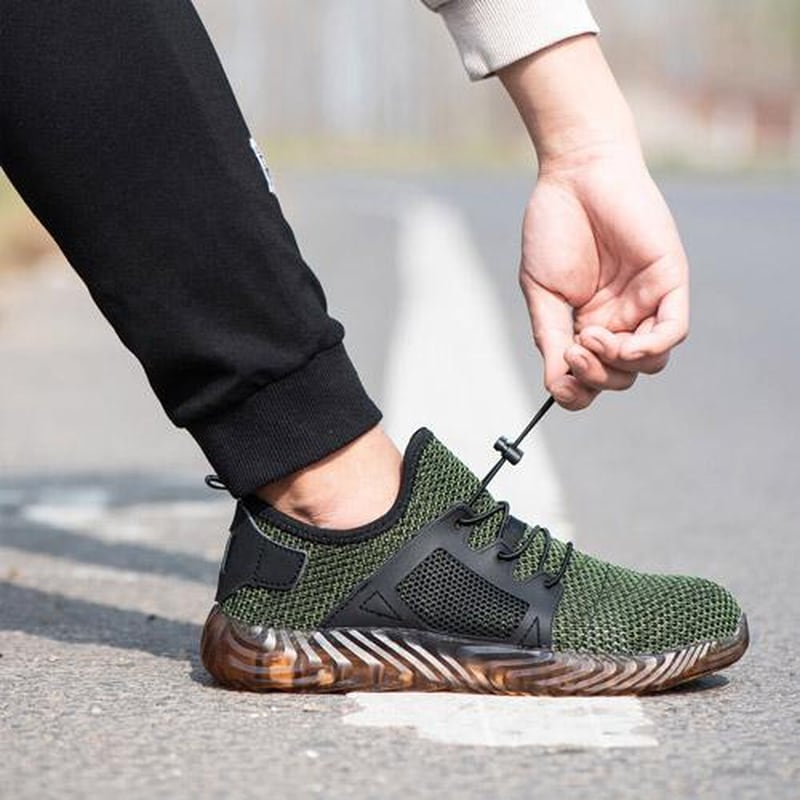 Never Lace-up again! Convenient and easy pull-string adjustable laces to provide the most comfortable, custom fit, saving you time and energy!
Specifications

These sneakers contain non-metallic mid-sole that provides puncture-proof protection to the sole of the foot. This mid-sole offers more flexibility, lightness, and comfort than a steel mid-sole.
Comfort X5 – Max-Toe has an extra-wide toe box and provides extra comfort
Sole puncture protection with Grade 1 protective toe to withstand up to 125 joules.
Soles provide electric shock resistance.
Cushion insole for shock-absorbing cushioning and energy return
Abrasion-resistant heel for extra support cradles the heel for all-day comfort
A special layer of EVA below foot-bed for cushioning and reducing foot fatigue
Lightweight and flexible for all-day comfort
A proprietary blend of rubber compounds for heightened traction and durability
All Workload work boots and shoes feature 5 layers of superior comfort
Men's Shoe Size Conversion Chart:

Foot Length (mm)

230

235

240

245

250

255

260

265

270

275

280

285

290

EU/CN Size

36

37

38

39

40

41

42

43

44

45

46

47

48

US Size 

4

4.5

6

6.5

7

8

8.5

9

10.5

11

11.5

12.5

14
---